Welcome to my profile
Hi I'm Karyun''dara I got into this world thanks to my dad whom I started watching playing games like Starcraft and Diablo and ended up playing with him a lot of games, mostly RTS and RPG. I think I started like when I was 3 or 4 but most of the time I didn't understand what I was doing, mostly because I didn't know how to read nor did I understand English at that time and some of the games were not in Spanish.
But now I play a lot of games which is funny because I always struggle to find anything that I really like, in my list there are some games that could be labeled as "Niche" but idk so take a look!
And here there's a list that I have with my girlfriend to have a record of the games we play together
Couple MVGL
---
Strategy Lover
I love RTS games, i remember that the first game that i've ever played was a RTS, when i was like 4 years old, of course with my dad, he introduced me in to this world and i ended up liking this genre a lot.
MY TOP 5 RTS
Starcraft ( I and II)
Warcraft ( I, II and III)
Age of Empires ( I, II and III)
Command & Conquer (Red Alert and Tiberian Sun)
Battle Realms
---
Expert Grinder
ARPGs are other kind of games that i like a lot, i started in this genre with Diablo 1, and i still think that Diablo is the best ARPG saga.
MY TOP 5 ARPG
Diablo ( I , II and II)
Torchlight ( I and II)
Path of Exile
Grim Dawn
Titan Quest
---
You must gather your party before venturing forth
I didn't knew CRPGs until some years ago when I played Baldur's Gate and since then I've been loving this genre
MY TOP 5 CRPG
Baldur's Gate ( I , II and II)
Neverwinter Nights ( I and II)
Divinity Original Sin ( I and II )
Pillars of Eternity ( I and II )
Icewind Dale
---
Blizzard Huge Fan
If you haven't noticed i love Blizzard, and all of its games, i love the Lore of its games and also i think the ha've some of the bests Lores in all of the history of Videogames. but i hate them because they keep kiling my favorite characters.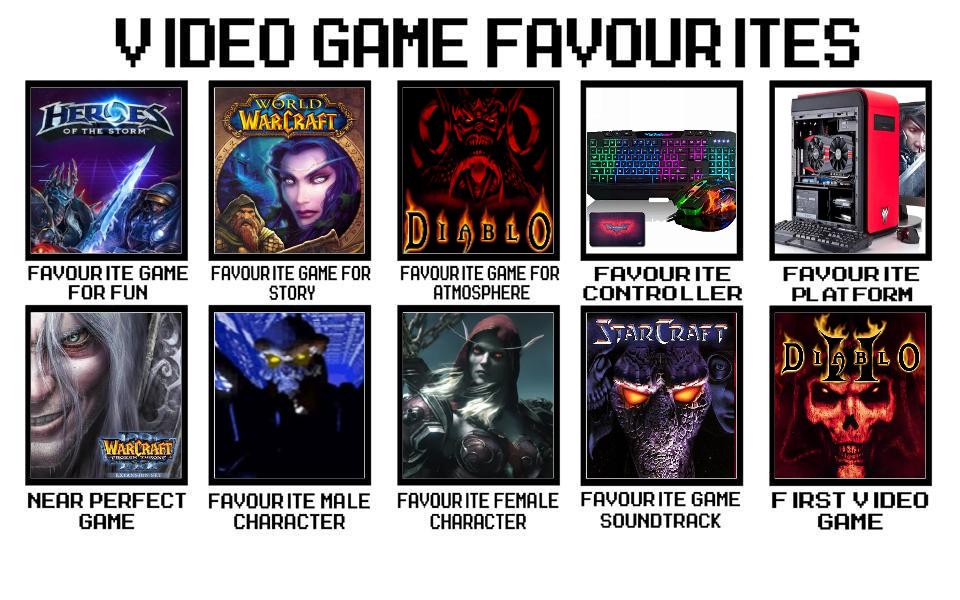 ---
Comments
I haven't written any reviews yet, I should get on that!
Profile Information
Join Date: July 31, 2015
Profile Views: 1731
List Views: 892
Average Game Rating: 7.0
Profile Comments Made: 1
Games on List: 906
Blog Entries: 3
Blog Views: 312
Game Reviews: 0
Friends: 5
Friend Of: 5
Favorited Games: 2
Games on Wish List: 1
Gamer Tags
Steam ID KaryundaraxBattle.net ID Karyundara#1388
My Consoles